XAU/USD Forecast And Current trend: : Gold prices are showing ambiguous dynamics during the Asian session, consolidating at 1900.00.
The day before, the instrument made another attempt to grow, and renewed local highs since the beginning of the year, having received support from the weak positions of USD and a decrease in the yield of US Treasury bonds. However, XAU/USD (Gold )failed to consolidate at the new levels, and by the close of the daytime session, the pair had lost all the previously gained advantage.
Investors closed part of their long positions on the instrument before the publication of updated data on the dynamics of US GDP for Q1 2021 and statistics on the dynamics of orders for durable goods. It is assumed that strong macroeconomic indicators may put additional pressure on the US Fed in the issue of curtailing support measures for the national economy.
XAU/USD Forecast: Gold updated local annual highs
Support and resistance
Bollinger Bands in D1 chart show stable growth. The price range is expanding, freeing a path to new local highs since the beginning of the year for the "bulls". MACD indicator is growing preserving a weak buy signal (located above the signal line). Stochastic has been showing fluctuating dynamics near its highs for a long time, reflecting strongly overbought instrument in the ultra-short term.
The appearance of correctional decline is possible in the near future. New positions can be opened only after receiving additional signals from technical indicators.
Resistance levels: 1900.00, 1920.82, 1935.00, 1952.53.
Support levels: 1875.09, 1863.34, 1850.00, 1830.00.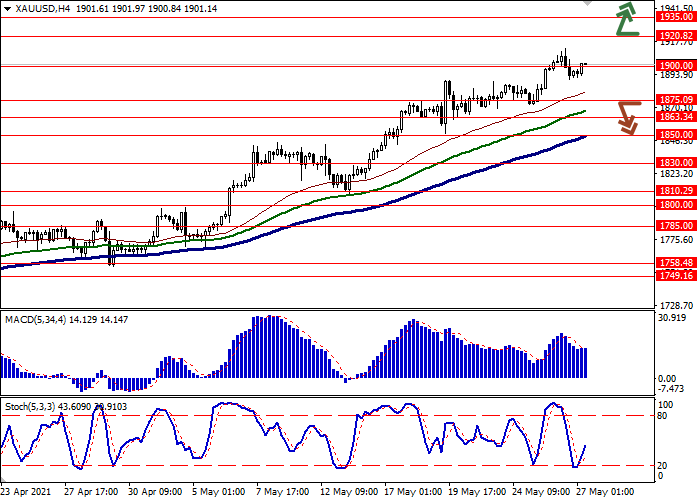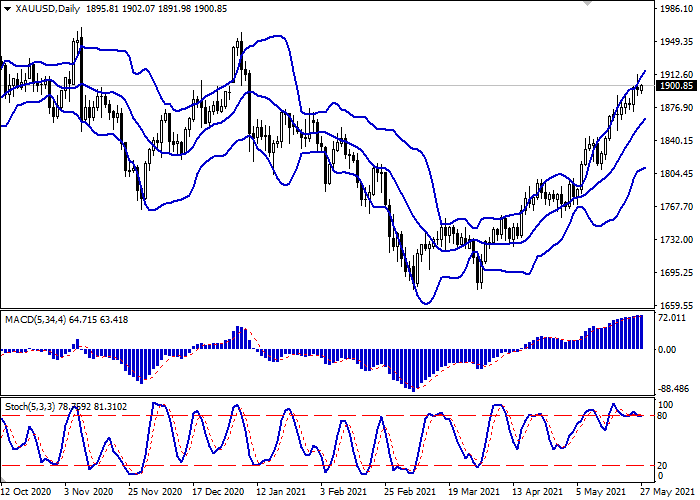 Gold Trading tips
To open long positions, one can rely on the breakout of 1920.82. Take-profit – 1952.53. Stop-loss – 1900.00. Implementation time: 1-2 days.
The breakdown of 1875.09 may serve as a signal to new sales with the target at 1850.00. Stop-loss – 1890.00.
Scenario
TIMEFRAMEINTRADAY
RECOMMENDATIONBUY STOP
ENTRY POINT1920.85
TAKE PROFIT1952.53
STOP LOSS1900.00
KEY LEVELS 1830.00, 1850.00, 1863.34, 1875.09, 1900.00, 1920.82, 1935.00, 1952.53
Alternative scenario
TIMEFRAMEINTRADAY
RECOMMENDATIONSELL STOP
ENTRY POINT 1875.05
TAKE PROFIT 1850.00
STOP LOSS 1890.00
KEY LEVELS 1830.00, 1850.00, 1863.34, 1875.09, 1900.00, 1920.82, 1935.00, 1952.53