Silver Wave Analysis: The pair is in a correction is possible: On the daily chart, the first wave of the higher level (1) of 3 formed, and a downward correction develops as the wave (2) of 3, within which the wave C of (2) forms.
Now, the first wave of the lower level i of C has formed, and the correctional wave ii of C has ended. If the assumption is correct, the price will fall to the levels of 22.68–20.49. In this scenario, critical stop loss level is 28.69.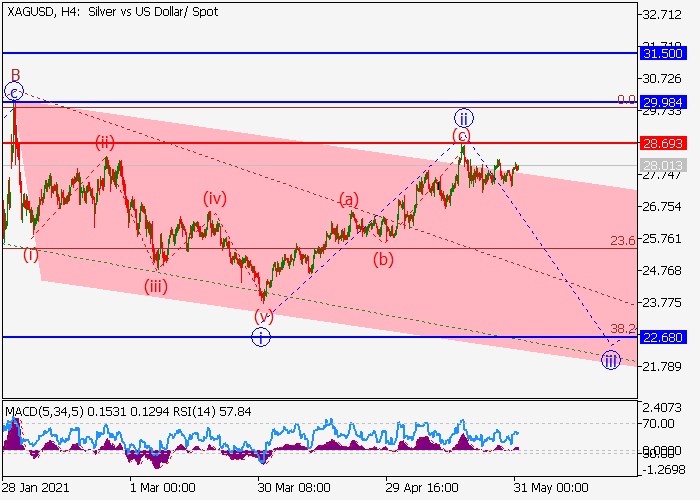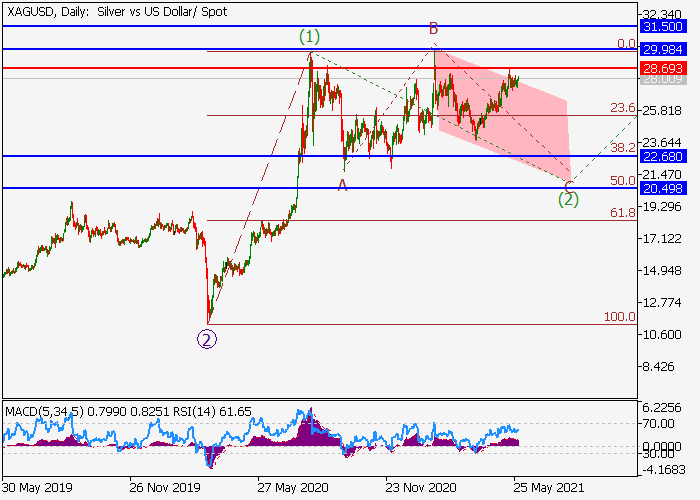 Main scenario
Spot Silver Short positions will become relevant after the end of the correction, below the level of 28.69 with the targets at 22.68–20.49. Implementation period: 7 days and more.
Alternative scenario
The breakout and the consolidation of the silver price above the level of 28.69 will let the price grow to the levels of 29.98–31.50.
Gold and silver prices were seen trading higher in India on Tuesday, with August gold contracts on the Multi-Commodity Exchange (MCX) trading higher by 0.27% at ₹49,483 per 10 gram. In the previous session, gold was up 0.54% or about ₹453.1 per 10 gram. Gold futures had closed at ₹49,349 per 10 gram in the previous session.
Silver Wave Analysis: July silver futures, on the other hand, were on Tuesday trading 0.93% higher at ₹72,565 per kg. Silver had settled ₹71,898 per kg in the previous session.
Among other precious metals, platinum price has shown an uptick. Platinum rose 0.38% to $1195.0 per Troy ounce. Also, the price of 24k gold in the Indian spot market was quoted at ₹47,710, according to agencies.
The current gold and silver rates in India come in the backdrop of a positive international trend in the prices of these metals, which continue to show an upward trend. Spot gold rose by 0.32% to $1911.9 per Troy ounce. This price level is 9.01% higher than average gold price observed in the past 30 days ($1739.7). Among other precious metals, silver prices edged higher today. Silver gained 0.67% to $28.2 per Troy ounce.
According to experts, a weaker US dollar and concerns over inflation have led to the surging gold rate in the international market, on the back of coronavirus disease (Covid-19) vaccinations and hopes of further stimulus.