Gold Forecast And Current Trend: Gold continues its corrective growth, trading at 1906.0 amid the formation of new factors that act as global support for quotations. The day before, Reuters published statistics on Chinese gold imports, according to which the PRC imported 52.821 tons of precious metal in April only through Hong Kong, which is 219% more than in the previous month.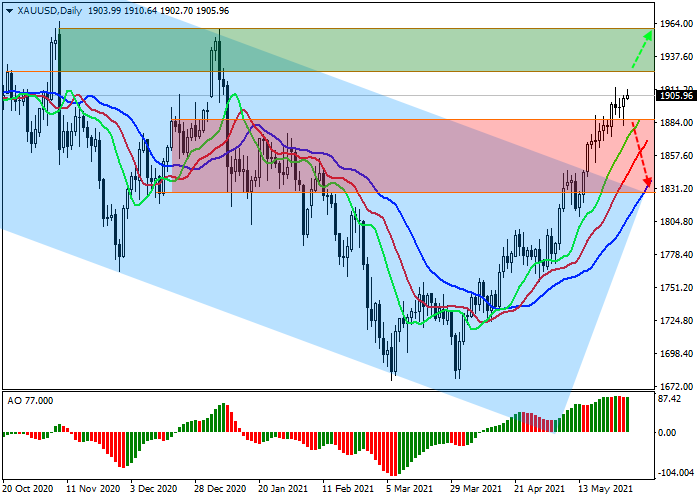 The second factor supporting the instrument is the weakness of USD. One of the main risks for USD is high budget spending, and President Joe Biden proposed to increase it several times, presenting a new draft budget for 2022 in the amount of USD 6 trillion (up from USD 1.52 trillion in 2021). It is quite natural that in such a situation a significant strengthening of USD is out of the question.
Gold Support and resistance
Signs of a trend change are becoming clearer on the global asset chart. The price consolidated above the resistance line and completed the implementation of the Volume Candlestick pattern. Technical indicators maintain the global buy signal: the range of EMA fluctuations on the Alligator indicator is still wide enough, and the histogram of the AO oscillator is trading in the positive zone.
Gold Resistance levels Key: 1924.0, 1960.0.
Gold Support levels Key: 1886.0, 1826.0.
Gold Trading tips
If the asset continues global growing and the price consolidates above the local resistance at 1924.0, long positions will be relevant with target at 1960.0. Stop-loss – 1900.0. Implementation time: 7 days and more.
If the asset reverses and declines and the price consolidates below 1886. short positions can be opened with the target at 1825 Stop-loss – 1914