Silver quotes are actively rising following the precious metals market, correcting at the level of 24.14.
This week, positive dynamics is demonstrated not only by the assets of the metal group, but also by other instruments that can play the role of "safe haven" ones. The fact is that the US stock market is actively declining, and investors fear that the correction observed at the moment can only be the beginning of a global decline. Leading US stock indices have already lost 7-8% since the beginning of the week, and this is enough to provoke a massive outflow of investment capital.
Last year, silver was among the most undervalued assets, losing 7.3% in value relative to 2020, and compared to oil, which is at the peak of its eight-year cycle, and Bitcoin, which is not yet suitable for saving capital due to its high volatility. Against this background, the precious metal looks like a clear favorite for investment. The reporting period of companies has just begun, and the current decline in the stock market may continue for about a month, which will be a supporting factor for the quotes of silver, which may reach levels above 25 dollars per ounce.
Silver Support and Resistance
The instrument is trading in a wide lateral channel, having reversed and heading towards the resistance line. Technical indicators are in a new buy signal state: the range of EMA fluctuations on the Alligator indicator started to expand in the direction of growth, and the histogram of the AO oscillator is forming ascending bars in the purchase zone.
Silver Support levels: 23.49, 21.40.
Silver Resistance levels: 24.55, 26.44.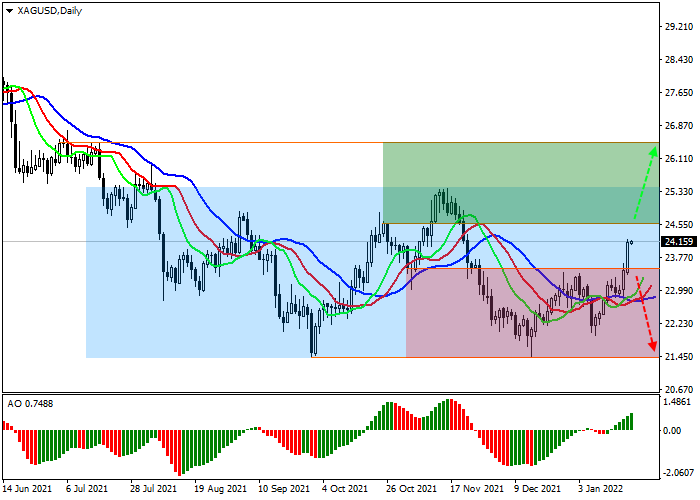 Silver Trading Tips for Today
| | |
| --- | --- |
| | Silver Trading Tips |
| BUY | If the asset continues local growth and the price consolidates above the local resistance level of 24.55, long positions will be relevant with target at 26.44. Stop-loss – 23.80. Implementation time: 7 days and more. |
| SELL | If the asset reverses and declines and the price consolidates below the local support level at 23.49, short positions can be opened with the target at 21.40. Stop-loss – 24.20. |