Spot Gold is correcting sideways at 1817.0. The precious metal seems to have settled in the range of 1830–1720 dollars per ounce, despite the fundamental shocks affecting the asset. Most experts believe that gold will remain in the specified area all year round for several reasons.
First of all, statements that the main threat to the precious metal is the decline in inflation in the US are untenable. The price increase in the US is not caused by problems in the supply chain, but by an increase in the money supply, which will not decrease even with an increase in the interest rate by the US Federal Reserve. As a result, inflation may remain above 6%, which, in turn, will not allow gold to lose value. The second reason is bonds. If the monetary policy parameters change, the positions of securities will decrease, which will provide natural support for Gold.
As for the local dynamics of investment capital, according to the US Commodity Futures Trading Commission (CFTC), the number of investor positions in gold last week decreased to 199.7K from 211.4K a week earlier, which is quite natural, given that the corporate reporting season has started, and investors will temporarily focus on stocks.
Gold Support and Resistance
On the daily chart of the asset, the price is trading within the global side channel, having reached the resistance line the day before. Technical indicators are ready to reverse and give a signal for the start of sales: the EMA fluctuation range on the Alligator indicator began to narrow down, and the AO oscillator histogram stopped forming ascending bars, preparing for a reversal.
Gold Support levels: 1808.0, 1763.0.
Gold Resistance levels: 1831.0, 1870.0.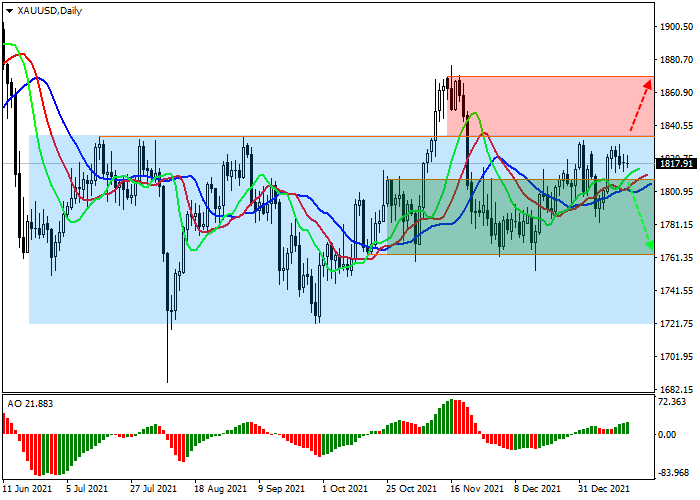 Spot Gold Trading Tips
| | |
| --- | --- |
| SELL | If the asset reverses and declines and the price consolidates below 1808.0, short positions can be opened with the target at 1763.0. Stop-loss – 1830.0. Implementation time: 7 days and more. |
| | |
| BUY | If the asset continues corrective growth and the price consolidates above the local resistance level of 1831.0, long positions will be relevant with target at 1870.0. Stop-loss – 1810.0. |